We take the South bound on the Stuart Highway. This highway crosses Australia from South to North with more
than 3500 km. We drive 1300 km now. There is nothing to see, except the pubs and roadhouses.

The first important and mythical one is the Daly water pub :
.


T-shirt, hats, business cards are hang on the wall and ceiling.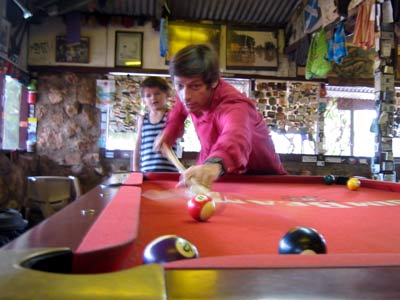 fortunately, I play with Titus.




The Roadhouse of Tea Tree is also very typical. great atmosphere... we are in the desert
far from the sea : the Australian outback.

Devil marble :
in the middle of nowhere, a group of rocks stand alone, some in a weak balance...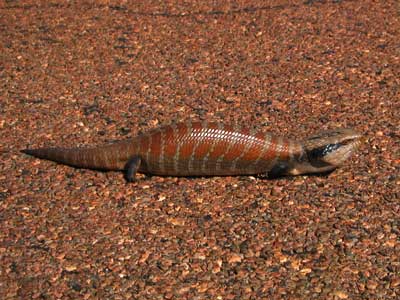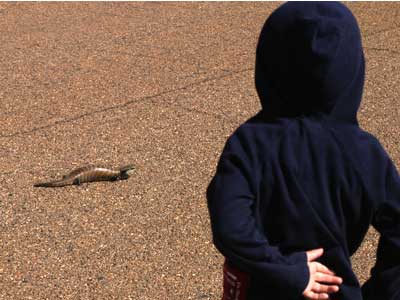 a blue-tongue lizard gets warm in the middle of the road...Titus is curious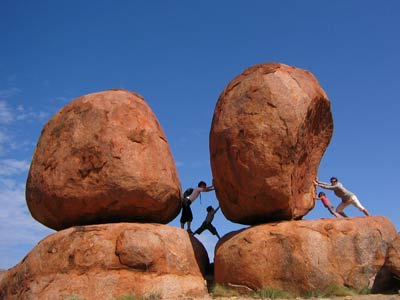 move the mouse on the picture



the monotony of the journey is rhythmical by the road train, always more impressive.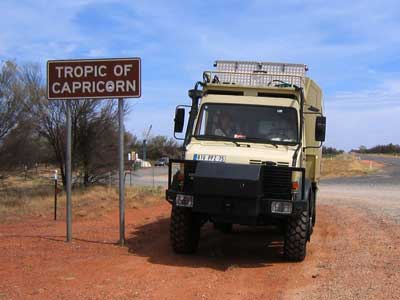 After driving the equivalent of Great Britain, we cross the tropic of Capricorn
and we arrive in Alice Springs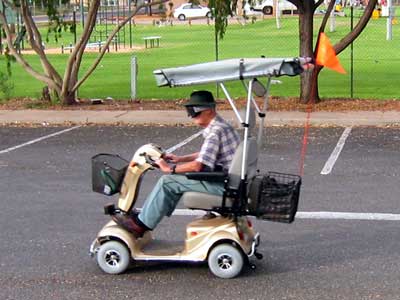 great business for those cars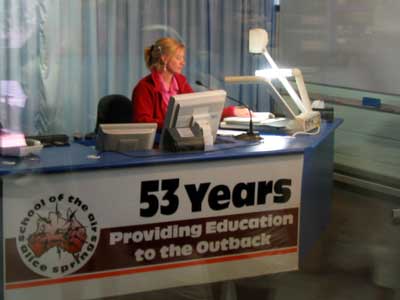 The school of the Air was created to give an education
to the children who live in the stations, to far to go to the cities. At the beginning, it was by radio,
now by High Speed Internet.

Father Christmas sleigh, Australian version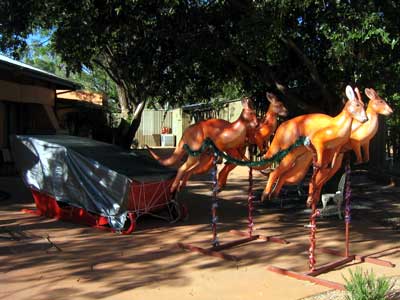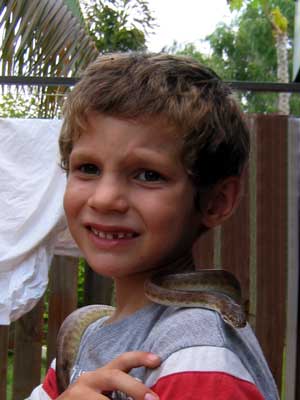 python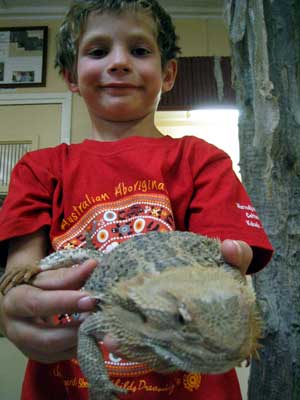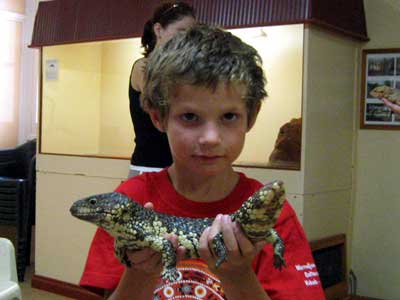 dragon another kind of lizard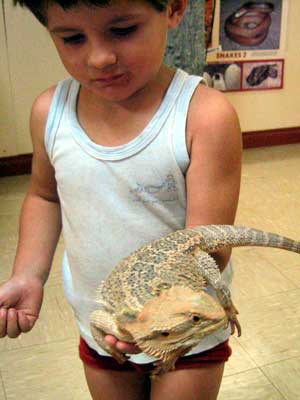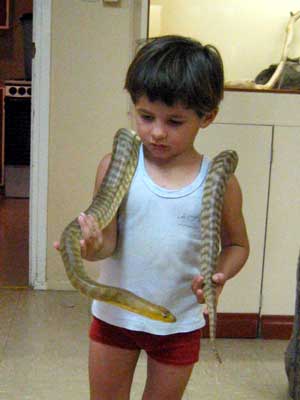 poor python...
Titus uses it as a toy !!



Alice Springs has also a great pub.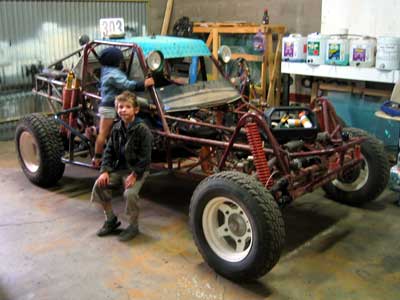 After recovering Mad Max's car,
we reach the desert...

West Mac Donnell National Park :

It's an enormous rocky barrier on the west of Alice Springs. We start by bicycle :
35 km with 43 degrees... each of us drinks nearly 10 litters of water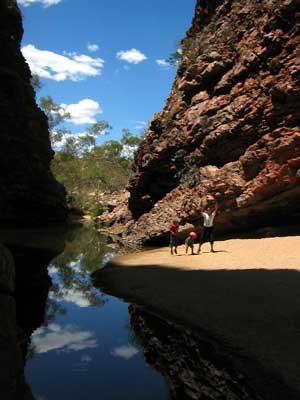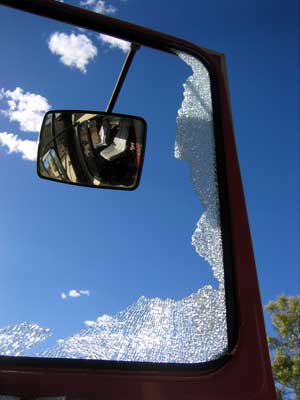 Simpsons Gap surprise when we come back


Standley Chasm... very impressive

Ormiston gorge :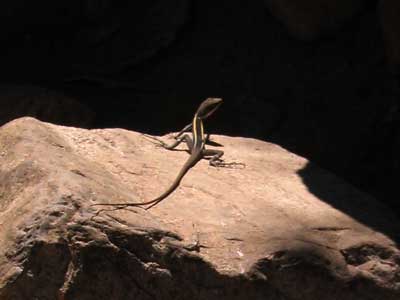 those lezards are everywhere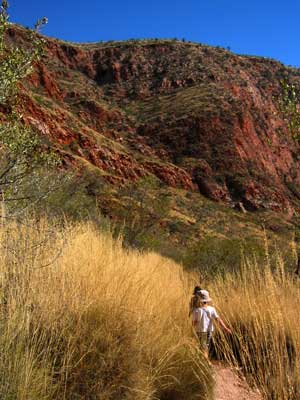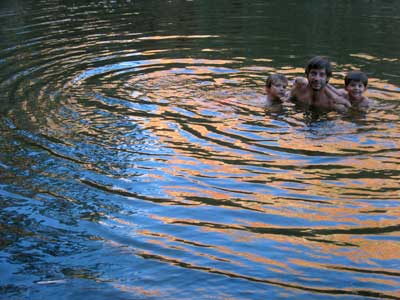 crater done by a meteorite

Palm Valley :



this kind of palm is unique... it grows only in this oasis, in the middle of the desert.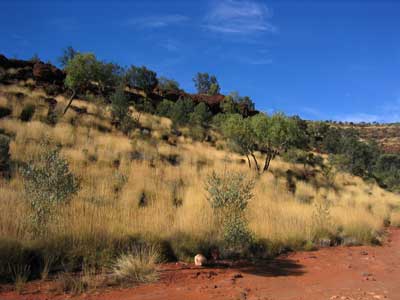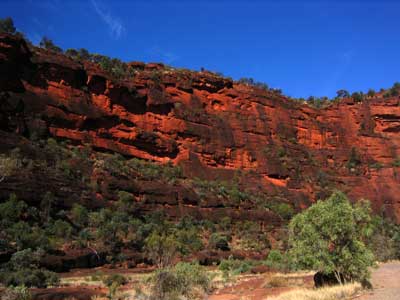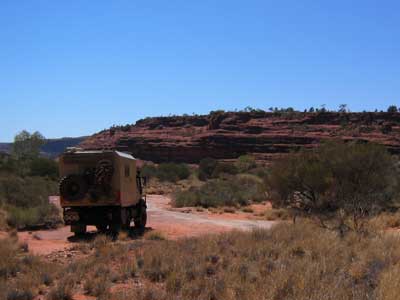 last story of wheels...on our record day for the
temperature (44,7 degrees), we explode a wheel valve...we have to change it another time.
We do it at noon!!! It will take us less than an hour.






by duj